WATERING TIPS
Water dry areas with hose
Targeting dry areas in the lawn with a hose is a much more efficient use of water than using sprinkler systems to resolve the problem.
Sprinkler Controllers
It's reasonable to set your controllers to automatic mode, but you should watch the weather for storms and make frequent (at least weekly) adjustments to your controllers as necessary.
Water in the dark
Optimal watering time is early morning, but anytime between 8 PM and 8 AM is good.
Ways to know if your lawn needs water
GUIDELINES FOR WATERING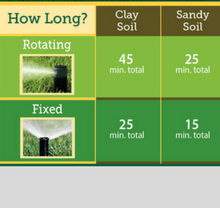 Our service area
Jordan Valley Water Conservancy District service area include the following cities and communities: Bluffdale, Draper, Herriman, Kearns, Magna, Midvale, Riverton, South Jordan, South Salt Lake, Taylorsville, West Jordan and West Valley.