My Water Use
See past bills, set billing preferences, update your profile, and view water use trends.
If you received a shutoff notice, please call 801-565-4300.
Contact Information
Address: 8215 South 1300 West, West Jordan, UT 84088
Phone: 801-565-4300
General Fax: 801-565-4399
Email: Contact Form

Hours and Holidays
Jordan Valley Water is open Monday through Friday from 8 a.m. to 5 p.m. Mountain Time. Our office is closed Saturday, Sunday, and on observed holidays.
2018 Holiday Schedule

| Holiday | Date Observed |
| --- | --- |
| New Year's Day | 1/1/2018 |
| Martin Luther King, Jr. Day | 1/15/2018 |
| President's Day | 2/19/2018 |
| Memorial Day | 5/28/2018 |
| Independence Day | 7/4/2018 |
| Pioneer Day | 7/24/2018 |
| Labor Day | 9/3/2018 |
| Columbus Day | 10/8/2018 |
| Veterans Day | 11/12/2018 |
| Thanksgiving Day | 11/22/2018 |
| After Thanksgiving Day | 11/23/2018 |
| Christmas Day | 12/25/2018 |
2019 Holiday Schedule

| Holiday | Date Observed |
| --- | --- |
| New Year's Day | 1/1/2019 |
| Martin Luther King, Jr. Day | 1/21/2019 |
| President's Day | 2/18/2019 |
| Memorial Day | 5/27/2019 |
| Independence Day | 7/4/2019 |
| Pioneer Day | 7/24/2019 |
| Labor Day | 9/2/2019 |
| Columbus Day | 10/14/2019 |
| Veterans Day | 11/11/2019 |
| Thanksgiving Day | 11/28/2019 |
| After Thanksgiving Day | 11/29/2019 |
| Christmas Day | 12/25/2019 |
Service Area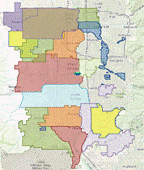 Service Area Map
View our service area map to see the service area boundaries for the different water providers in Salt Lake County. Our retail service area includes portions of: