Drought Response Actions for 2021
· JVWCD's planning, infrastructure, and supply sources are intentionally designed to sustain short-term drought conditions and will help us get through this year.
· Though JVWCD does not anticipate any water shortages or restrictions to its deliveries for 2021, effective drought responses will improve water availability for coming years.
· JVWCD supports and promotes the Governor's recent executive orders that ask for water use reductions, including the following requests:
o Do not irrigate landscapes between 10 a.m. and 6 p.m.
o Do not irrigate landscapes when it is windy or raining.
o Limit irrigations to two times per week.
o Repair indoor and outdoor leaks.
o Replace inefficient plumbing fixtures.
o Make sure equipment, fixtures, appliances, and systems are operating properly and are using water efficiently.
· JVWCD recommends that cities consider delaying the requirement for new landscaping to be installed this summer as part of new construction until temperatures decrease.
Preparing for Future Droughts
See how preparation is our key to staying out of crisis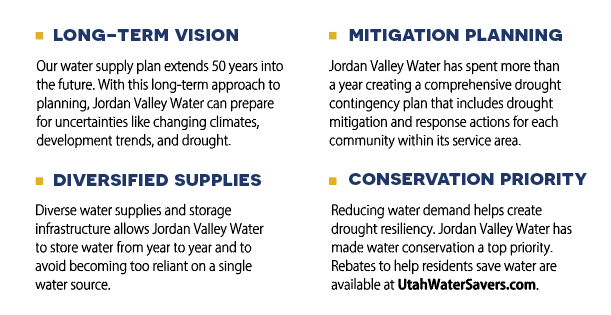 Frequently Asked Questions about Utah's Drought
What makes this year's drought different?
While drought happens often in Utah, this year is one of the worst drought seasons Utah has seen in some time. Another winter of low precipitation and snowpack means we're now experiencing parched soil, low river runoff, and reservoir storage far below capacity.
How will my water by impacted?
Jordan Valley Water has enough water in storage to meet demands for this year—but that doesn't mean residents shouldn't consider ways to become more drought resilient. Finding ways to use less water this year will help our water supplies last if the drought continues into next year.
How is Jordan Valley Water responding to the drought?
For more than a year, we've been working on a "drought contingency plan" that addresses extreme drought, its impacts, and a plan for our response. Through this plan and our conservation initiatives to reduce water demand, we are helping build drought-resilient communities.
What does it mean to be drought resilient?
Drought-resilient communities are more able to adjust to drought and unpredictable climate patterns, which are becoming more and more common. Being drought resilient means you aren't as affected when there is less water.


How can I be more drought resilient?
Becoming drought resilient can be as simple as finding ways to reduce your dependency on water—especially during irrigation season when water supplies are often the most stressed. Remove narrow bits of lawn from your landscape, use a smart irrigation controller, or switch planting beds to drip irrigation. Rebates to help you make these changes are available at utahwatersavers.com.