Pharmaceuticals and Personal Care Products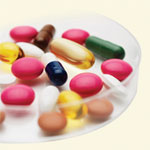 While no impact on human health from pharmaceuticals has been demonstrated at the trace levels detected, research is still needed to determine the possible long-term effects for humans and the environment. Jordan Valley Water recognizes the potential concern and screens for these chemicals. To date, these compounds have not been detected in our source water, but we will continue to stay current on the latest developments regarding health risks and removal strategies. Be assured that our first priority is protecting your health.
Disposal locations and more information about PPCPs can be found at useonlyasdirected.org.