Water Sources
Upper Provo River Reservoirs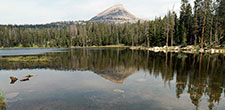 Located at the headwater of the Provo River, this group of natural lakes has been enlarged for operation as reservoirs, and feed the Provo River.
Jordanelle Reservoir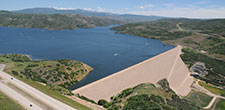 At 320,000 acre-feet volume, Jordanelle Reservoir is the largest storage facility for Central Utah Project water collected from Provo River. On average, fifty thousand acre-feet of this water supplies Jordan Valley Water annually.
Deer Creek Reservoir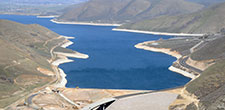 Deer Creek Reservoir holds 152,000 acre-feet and is a feature of the Provo River Project. Jordan Valley Water's ownership of stock in the Provo Reservoir Water Users Company entitles it to water stored in this reservoir.
Wells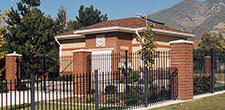 Twenty percent of Jordan Valley Water's supply is groundwater, pumped from wells scattered around the Salt Lake Valley.
Facilities
Water sources for Jordan Valley Water are distributed through a variety of pipelines, booster stations, and treatment plants for delivery throughout the Salt Lake Valley.
Water Source Map
The map below shows the scale and distance water sources must travel to be distributed for use. A version can be downloaded by clicking on the map.